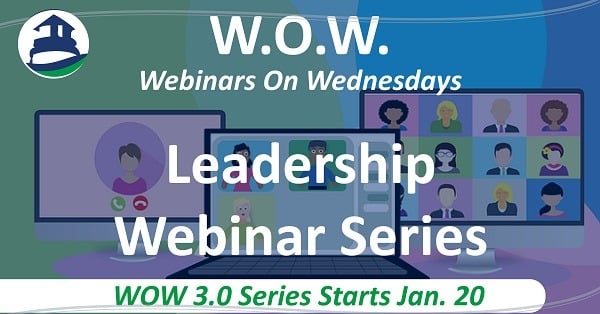 WOW (Webinars On Wednesdays) Leadership Webinars are designed to give managers, supervisors and organizational leaders the tools needed to manage teams and move their businesses forward.
EANE's trainers and coaches have prepared these bite-sized webinars (45 minutes per session) to keep leaders focused on "what's next" so that you don't get stuck in putting out today's fires, only to be ill-prepared for tomorrow.
These webinars are available a la carte or as a 7-webinar package. Click on the webinar titles below to see what you can look forward to from this series.
Register For The Entire Series & Save
Instead of paying $50* for each session, you can get a seat at all 6 sessions for $250*
*EANE Members get a 40% discount off of the rates listed above.
Click on the "Sign Up" button above to register for the entire series. Click on the series names below for individual registration information.
The WOW Series Starting in January Includes These Sessions
Jan. 20 | Get More From Your Team | Whether Remote or In-Person
Feb. 17 | 3 Sure-Fire Strategies to Up-Level Your Next Virtual Meeting
Mar. 17 | Cultivate and Build Trust With a Remote Workforce
Apr. 21 | Empathetic Leaders | Humanizing the Workforce
May 19 | Move From Employee Engagement to Employee Experience
Jun. 16 | Take Care of Yourself In Order to Take Care of Others
---
While the webinars in the WOW Leadership series will be recorded and emailed to registered participants after the end of the webinars, they WILL NOT be made available in the member Webinar Archives. Members and nonmembers will need to register in order to gain access to this training content.