State Funded Grants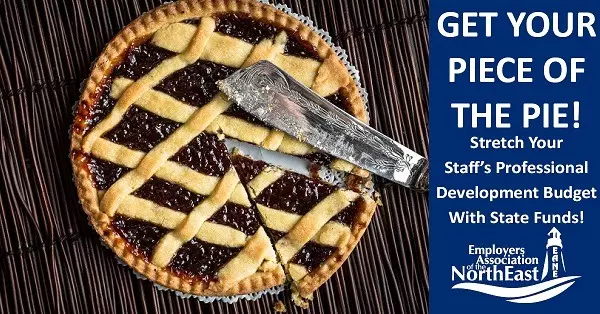 Massachusetts Grants
There are 3 types of funds available: Express Program, General Program and Safety Grant.
The Express Program is open to companies of any size that contribute to the Workforce Training Fund. Companies may apply for funding to be reimbursed for many courses found on the Express Directory – all EANE training programs are listed in that directory. For companies with more than 100 MA employees, upon completion of an approved course, the program will reimburse 50% of costs up to $3000 per person per course.  For companies with 100 or fewer, the program will reimburse 100% of costs up to $3000 per person per course.
CLICK HERE TO ACCESS A LISTING OF EANE's EXPRESS FUND APPROVED LEARNING OPPORTUNITIES!
The General Program is designed to provide eligible Massachusetts companies the opportunity to apply for up to $250,000 in training funds that may cover up to two years of training. The fund covers many types of training including:
Leadership & Management Skills
Customer Service Skills
Sales
Project Management
Six Sigma
Software and IT Training
And much more!
In order to be eligible a company must contribute to the Workforce Training Fund; trainees must be employed in Massachusetts and a Certificate of Good Standing must be current. If you have a business problem or opportunities to be addressed through training then you may be a great applicant for these funds.
The Workplace Safety Training and Education Grant Program provides up to $25,000 to qualifying MA businesses to fund programs that reduce the risk of injury and illness to workers and promote safe and healthy conditions in the workplace through training, education and other preventative programs. This grant is available until December 31, 2022, or until funds are depleted.
Connecticut Grants
Connecticut's Manufacturing Innovation Fund – grants cover 50% of training costs with a minimum request of $10,000 and a maximum of $50,000 per year. These funds are available to businesses classified as manufacturers under NAICS guidelines and open to companies with under 300 employees. EANE's Learning and Development team can assist you with the application.
Rhode Island Grants
Incumbent Worker Training Grant Program are back!
Rhode Island Governor's Workforce Board has approved $750,000 for FY 2023 to fund the Incumbent Worker Training Grant.
You can send your employees to EANE's public training programs (virtual or in-person) or have us come to you (virtual or in-person) and be reimbursed for up to 75% of costs depending on company size.
REQUIREMENTS: Employers must pay into the Unemployment Insurance Taxes and be in good standing with the RI Division of taxation.
REIMBURSEMENT RATES & PROGRAM CAPS Employers who meet the eligibility criteria outlined above and have 25 or more employees may be reimbursed at a rate of 50% for eligible costs on eligible training activities. Eligible employers with fewer than 25 employees may be reimbursed at a higher rate of 75%. The annual award cap for all eligible employers is $30,000 per calendar year. Multiple training grants may be awarded to an employer until the $30,000 program cap is reached. And a cap of $5k per-trainee. See more here www.gwb.ri.gov
EANE – Your Grant Writing Partner
We can help you by:
Assisting you in developing and writing the business case
Conducting a needs assessment for your organization
Identifying and suggesting training courses and providers to help you achieve your goals
Assisting with writing the grant application
Scheduling trainings
Compiling all the reports necessary to submit to the state on your behalf
Contact one of our Learning and Development experts if you would like additional information about any of these ways to stretch your training budget.