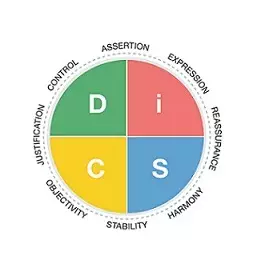 Exemplary leadership inspires employee engagement and maximizes productivity! This in-depth series gives supervisors and managers practical knowledge and skills critical to leadership success. You will gain skills to effectively manage relationships with direct reports, peers and managers.
Through an active learning model of group exercises, self-reflection and collaborative peer learning, you'll be able to apply the concepts to real-life and begin identifying opportunities for your personal growth and development; and be prepared to apply the skills you've gained back on the job.
This series leverages the findings of the Everything DiSC® Management Profile assessment tool which participants complete before the training series begins.
Everything DiSC® Management assessment
DiSC assessments are available in English and Spanish form. Everyone will get the English assessment to complete unless you contact us and request the Spanish form. The completed report will be sent in the language the assessment is completed in. Please note that the course will be delivered in English.
Who Should Attend
This series is offered to front-line supervisors, managers and professionals in any industry. Participants who attend all four sessions will be awarded a Certificate of Completion.
Learning Objectives
click on the link to the individual session descriptions below for the objectives of each session in this training series.
HRCI™ & SHRM® Credits: 26
(26 HRCI™ Business Credits)
Registration Fee
EANE MEMBERS | $1480 Per person for the series
FUTURE MEMBERS | $1850 Per person for the series
Register 3 or more participants at the same time for the same class and save 10%